*This post may contain affiliate links. As an Amazon Associate we earn from qualifying purchases.
Dash Cameras are fast becoming an essential component of any modern automobile. In this ever-growing market, it is hard to create a product that stands out among all the "noise." Despite this challenge, Thinkware is becoming the brand synonymous with premium quality in this complex category.
Thinkware and their latest Thinkware dash cams have been making a splash in the market for years now.
Whereas many other cameras simply record your driving experience, a Thinkware dash cam is the luxury model among car cameras, providing stunning footage, night-vision functionality, optional dual channel recording, and much more. This is without a doubt a camera we endorse, but if you are on the fence, it is worth noting that this is far from the only dash camera brand or style on the market.
Here, we'll break down the design, features, usability, and other aspects of the Thinkware Dash Cam F800 and pit it against other leading dash camera models so that you can thoughtfully evaluate whether this camera is a good choice for you.
If you have a car then you need to have a safety kit in it.
This Emergency Preparedness Kit is a vital thing to carry with you in all of your vehicles as it will help not only in the case of a weather emergency but also in case of a breakdown.
About The Thinkware Dash Cam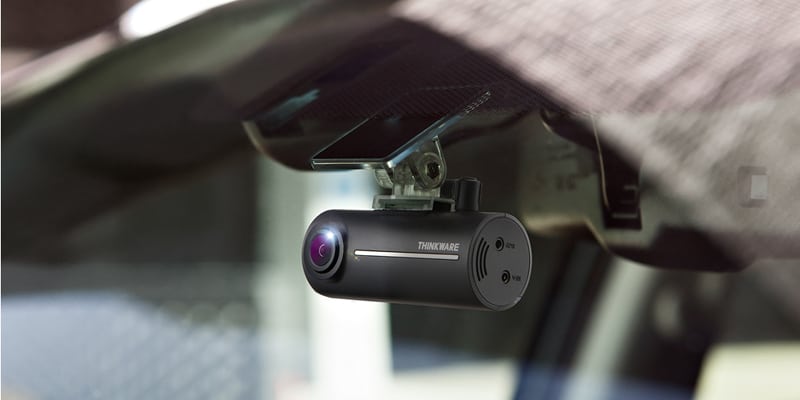 The Thinkware Dash Cam F800 is a sleek, semi-permanent dash camera available for installation in nearly any vehicle on the market. It is barely larger than a typical wallet, and yet it can capture high-end footage with ease. By design, this apparatus is meant to be simple, easy to work with, and largely automated so that users of various needs and backgrounds will have no issue integrating this device into their day-to-day lives.
Released in 2017, the F800-model Thinkware dash cam continues to make a splash in this market for its superior camera quality and night-vision features. It is a great camera, but keep in mind that you will need professional installation in order to integrate this system.
Product Specs
The Thinkware Dash Cam F800 provides a single-camera setup (although you can opt for an additional, second camera) that shoots HD 1920x1080p video with a Sony Exmor R STARVIS sensor. This stunning footage all loads either to its internal hard drive, or you can store video data to a micro SD card (sold separately).
It offers pristine night-vision shooting and can cycle camera modes automatically to suit daytime driving, nighttime driving, and parking modes.
This Thinkware dash cam system also offers a slew of added features dedicated to promoting better and safer driving habits. These include inadvertent lane change warnings, red light warnings, and collision warnings intended to give you all the information you need to maintain driver safety in a variety of conditions.
Finally, added functionality like response to voice commands and a Wi-Fi interface make this unit exceptionally easy to work with and control. Some may be disappointed to see it does not feature a touchscreen interface, but others consider this to be a welcome aspect and a good tradeoff for how little space this camera takes up once installed.
Pricing
Thinkware dash cams are arguably the best cameras on the market, and their prices reflect that. The Thinkware Dash Cam F800 comes only with the camera. Remember that you will also need to pay for installation and an add-on micro-SD card, which will add a bit more to your total investment if you choose this dash cam option.
How It Compares
To give you the full view of what cameras are available and what options you have for dash cams, we have compiled a list of leading cameras available on the market today. These cameras include:
Thinkware Dash Cam
Compared to its direct competition, this dash cam (found here) is not budget-friendly. The list price may be somewhat justified by the exceptional features, including the unmatched night vision, but keep in mind that you will need to have your system installed at an additional cost.
Features
Voice control, Wi-Fi functionality, night vision, rear-camera adaptability, and many other perks give the Thinkware Dash Cam F800 a staggering advantage in comparison to its peers for performance. Really, the only arena we found lacking was the absence of a screen, and we recognize that many users will not miss it.
Video Quality
The HD 140º lens is second to none in this category. Meanwhile, in areas like night vision, many models don't even attempt to provide such functionality.
Video quality is largely what you're paying for when purchasing this camera, and the investment will pay a dividend if that quality is important to you.
Design Quality
The lack of a screen might be a shortcoming for some users, and the buttons can occasionally seem a bit clunky to use, but the overall result is a device with simplicity.
Many users value certain elegantly efficient aspects of the Thinkware dash cam that make it unique in the class.
Performance
Once it is installed and you are driving, there is little else to think about. This camera gathers footage without trouble and through all manner of conditions.
The extreme wide view also provides a view to all the action so that no matter what happens while driving, you'll have a video record of it.
Pros
Exceptional video quality
Night vision
Cons
No touchscreen
Expensive
Requires custom installation at added cost
Garmin Dash Cam 56
Garmin continues to be a force across all aspects of in-car cameras and video footage collection. Applying a strong background in action cameras, Garmin takes a unique and exciting approach to dash cams. Their Dash Cam 56 model (found here) is a powerful device that is more affordable than the Thinkware Dash Cam we featured.
It is also a bit more installation-friendly and requires little to set up and get running. Because this Garmin camera that doesn't require professional installation by a specialist, you can move it from car to car when needed. The voice controls are exceptional, the internal time lapse is fun to use, and the attachable polarizing filter is a thoughtful addition that other dash cam designers have overlooked.
Finally, onboard driver safety measures warn you if you are traveling in the wrong lane or if accidents are ahead.
This is a reasonably priced dash cam. Since it falls short of a current-model Thinkware dash cam in some areas of performance, a case can certainly be made for dropping the extra money to own the more premium unit.
Features
This camera's screen gives it a leg up on much of the competition. In addition, pre-loaded features for voice control, driver safety warnings, and a quality Wi-Fi interface make this a solid, all-around dash camera that should keep any user happy for many drives to come.
Video Quality
This Garmin doesn't quite shoot in full HD. There is no listed night-vision capability, and the camera angle peaks at 122º, making your field of view just a bit tighter than with the Thinkware cam, by comparison.
Design Quality
The screen here is great, the size is discreet, and the camera system is sturdy. We found nothing groundbreaking, but with the nice orange trim on its black case, this little camera looks plenty stylish.
Performance
The lack of night-vision functionality and full HD knocked this camera down a couple points on our scale. Additionally, there are numerous reports online of this camera tending to malfunction on hot days, which is a concern considering that few people will be willing to remove this camera from the car and carry it around to keep it cool.
Pros
Small, convenient size
Transferable to other cars
Interactive touchscreen
Cons
Narrow field of view vs. competitive models
Heat can cause malfunction
Small battery
BlackVue DR650S-2CH 32G Dash Cam
A sort of do-it-all device that is user-friendly and exceptional in many ways, this BlackVue cam (found here) fulfills all your needs and then some in an elegant, sleek package. The dual-camera system uses a 2-megapixel CMOS sensor for quality video captures, and internal categorization features mean that finding the footage you need is easier than ever.
To tap the maximum capacity of this camera, including parking surveillance mode, this camera will require hard-wiring to the car's power supply, but with an OBD II port converter, which plugs into most vehicles without hassle, you can be up and running with minimal difficulty.
This is a premium-quality, high-tech device, and the price reflects that. You will receive basically everything you need to get started, including a micro-SD card and port converter.
Features
The internal parking monitor and dual HD cameras are features unmatched by other competing models. Meanwhile, the Cloud monitoring system makes it simple to view or review your footage from anywhere.
Video Quality
The video quality in daylight is pristine with this camera, but keep in mind that, at night, you'd see marked differences between the quality of the Blackvue and Thinkware devices' respective imaging capabilities.
Design Quality
The lovely, egalitarian design of the unit looks great, but the lack of screen might be a bit discouraging for hands-on users.
Performance
The only real downside here is the lack of night vision capabilities. The camera quality is nearly unmatched in the category, though, and the smartphone interface works great.
Pros
Exceptional camera
Parking record feature
Dual cameras
Cons
Needs to be powered through the console
No touchscreen
Expensive
Z-EDGE Z3 Dash Cam
For a wide view, sharp images, and easy onboard integration with your vehicle systems, the Z-Edge Z3 (found here) stands out among its competitors, and it won't break the bank. This exceptional camera integrates easily with most cars and gives creative users an exceptional opportunity to record stunning footage throughout their drives.
It lacks a few of the automated features that other cameras more dedicated to collecting evidence for insurance claims require, but as a tool for automotive-based filmmakers, you won't find a better option.
This is the least expensive camera on our list. That discount comes at the expense of some automated safety functions provided by other cameras on this list.
Features
Premium video quality is really what you are paying for with a camera like this, so do not expect to see all the bells and whistles possessed by the other cameras we featured on this list.
Video Quality
With Ultra 2K HD image quality and a broad, 145-degree field of view, this camera is designed primarily to deliver stunning footage. The results in that department are hard to deny.
Design Quality
There's nothing particularly special about the way this camera was designed, so we assigned it a midrange rating.
Performance
Without the added, automated features inherent in other cameras on this list, this camera can feel lacking. For some, the simplicity of the design is a plus.
Pros
Superb video quality
Wide, 145-degree viewing angle
Inexpensive
Cons
Lacking a lot of feature
Very little automation
No GPS tracker
Conclusion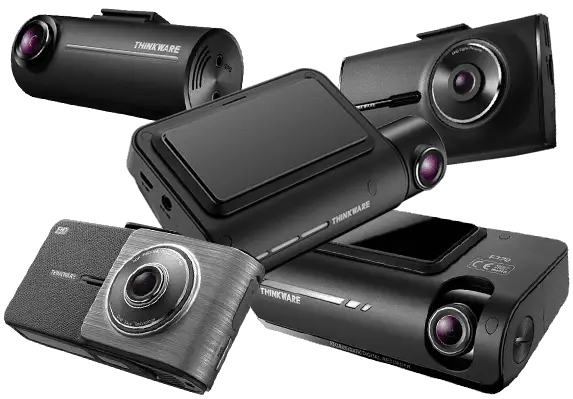 Among dash cams on the market, the Thinkware dash cam has a lot going for it. Even features that some might consider pitfalls, like no touch screen or the requirement for somewhat permanent installation, can be viewed as benefits depending on the needs of the consumer.
For all of its prowess though, a Thinkware dash cam is certainly an expensive choice, and regardless of how well it suits your needs, you might find its price point a barrier.
If budget is a key concern, we recommend that you consider the Garmin Dash Cam 56, which has loads of internal automated features and a solid, user-friendly interface. It is missing some fun features like voice-command responsiveness and Cloud access, but these can be considered superfluous in the grand scheme of things.
All considered, we rated the Thinkware Dash Cam is the best of the bunch. It is a nearly optimal system for some that might not be perfect for everyone because of its high price point, which kept it from earning a higher overall score.
You can find a Thinkware dash cam or one of the other models covered in this review by following the included links.