*This post may contain affiliate links. As an Amazon Associate we earn from qualifying purchases.
The invention of the portable car jump starter revolutionized a small part of the auto service industry. These jump starters brought hope that the days of drivers being stuck on the roadside for hours waiting for a mechanic to help them will soon be gone.
The Spirit A8 car jump starter is one of the most popular portable jump starters in the U.S.
Compared to jump-starting your vehicle with the help of another car, the portable jump starter is quicker, cleaner, and safer. Despite these obvious benefits of ownership, portable jump starters have not yet gained the universal acceptance they deserve. We believe that every driver should own a portable jump starter, and we want to help you find a good one, at a good value.
In this article, we discuss one of the most popular portable jump starters on the market: the Spirit A8 car jump starter. We explored how it compares with the competition and help you consider whether it is the perfect portable unit for you and your vehicle.
What Is the Spirit A8 Car Jump Starter?
The Spirit A8 Car Jump Starter is a portable, 300 amp (max: 600 amp) jump starter with one USB output. This device is capable of jump-starting most passenger vehicles, from small cars to sport utility vehicles (SUVs).
Product Specs
The Spirit A8 car jump starter is powered by an 18,000 mAh lithium-ion battery. It has one output capable of supplying numerous voltages, including 12V, 16V, and 19V. This jump starter's CC/CV value is 15V1A, and its start current is 200A, which peaks at 400A(3S). It is rated to function in a temperature range of 0 to 85 degrees F.
This jump starter has enough power to jump start most small cars and SUVs. This unit comes with battery clips and a phone charging cable, with the starter and accessories all fitting nicely into a softshell case. The device also comes with one power adapter, four mobile phone adapters, eight different laptop adapter tips, and a user manual.
How It Compares
We picked a few similar products available on the market to see how they compare to the Spirit A8. We also checked out the:
Clore Automotive Jump-N-Carry JNC660 Jump Starter
DBPOWER 600A 18000mAh Portable Car Jump Starter
GOOLOO 18000mAh SuperSafe Car Jump Starter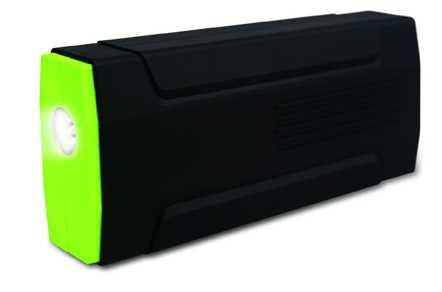 Ease of Use
Using the Spirit A8 car jump starter is straightforward. To use this device, all you need to do is to connect the cables and to switch the car engine on. You should take a look at the cautions provided in the manual, of course.
Features
The Spirit A8 is more than just a jump starter. In addition to jump starting a car, you can use this device to charge your laptop and phone. The A8 has up to nine different laptop plugs/adapters and four laptop connections.
Design Quality
Like most portable jump starters, this unit takes the form of a cube with a hard plastic cover. The jump starter weighs a little under 2.5 lbs., and it can likely fit in your glove box or a car seat pocket. Its controls are straightforward. The Spirit A8 car jump starter also has a protective case really helps in keeping its accessories together.
Reliability
The Spirit A8 car jump starter has a high-quality battery of its own. This jump starter can hold a charge for weeks, and it will reliably start a car even after weeks without charging.
Pros
Portable
Affordable
Multiple connections
Cons
Lacks a light
Cannot jump heavy trucks
The Jump-N-Carry JNC660 is one of the most powerful jump starters on the market. The jump starter has a replaceable, valve-regulated lead-acid (VRLA) Rechargeable Clore PROFORMER battery designed for durability, and it peaks at 1700 amps or 425 cranking amps. This jump starter doubles as a "power bank" for your devices: You can use it to charge a variety of gadgets via its 12V charging outlet.
Weighing 18 pounds and with dimensions of 3 x 14.1 x 5.1 inches, the JNC660 is much bigger and heavier than "pocket" jump starters. On the front of this device, there is a voltmeter enabling easy viewing of the battery status. The 12V outlet, which has automatic circuit protection, is also located at the front, near this starter's status lights.
This jump starter has 42-inch cables leading to the jumper clamps. The JNC660 is a very powerful starter with enough power to start engines all the way up to those in 8L diesel vehicles.
Ease of Use
We found no difficulties at all in using this jump starter. After you verify that it is charged, all you need to do is to connect the clamps properly, wait a few moments, and the vehicle should start. We like the shape of the clamps because they are extra-easy to connect to car batteries.
Features
The JNC660 is one of the most powerful jump starters you can get. This jump starter can only charge or power 12V devices. Unlike the Spirit A8 car jump starter, or the DBPOWER and GOOLOO units we also tested for this article, the JNC660 doesn't have laptop or smartphone charging capabilities.
Design Quality
The JNC660 is a sturdy, heavy yet still portable jump starter with a hard plastic case. We like the fact that the battery, clamps, and other parts of the JNC660 are replaceable. This gives it a longer life than other jump starters.
Reliability
The JCN660 jump starter is a reliable piece of equipment. It is one of the few jump starters with a replaceable battery and clamps.
Pros
Very powerful
Replaceable parts
Can jump heavy trucks and big diesel engines.
Cons
Lacks a flashlight
Only charges 12V devices (no USB or other device jacks)
Lacks a power button, which could compromise its safety
Expensive vs. other options
The DBPOWER 600A jump starter consistently gets rave reviews from auto self-service enthusiasts. Like the Spirit A8 car jump starter we covered first, the DBPOWER is small enough to fit in your car's glove box. DBPOWER incorporates a number of safety features in this jump starter, including spark-proof cable clamps.
This box uses integrated circuits that help prevent reverse-polarity faults, open circuits, short circuits, overcharging, overloading, over-current, and over-voltage conditions. The jumper cable connection points are protected by silicone covers. The DBPOWER 600A jump starter comes with a big 18,000mAH lithium-ion battery. This jump starter can power a variety of vehicles up to 6.5L gas engines and 5.2L diesels. The power produced by this DBPOWER jump starter is enough to jump start a typical car 30 times on one charge.
Accessories
This jump starter also comes with a number of accessories including an LED light with bright, strobe, and SOS modes. The device has a push-button compass that can help you get back on track in case you lose your way. The jump starter comes with a semi-hard mesh protective case which can help you keep your jump starter and accessories in one place. We liked the LCD screen that shows the battery level, warnings, and the mode. This device has two 2.4A USB ports plus an 8-in-1 laptop adapter. Available output voltages are 12V, 16V, and 19V.
Ease of Use
This auto jump starter is very easy to use, and it only needs to be charged once every three months or so if you don't use any jumps within that period.
Features
The DBPOWER jump starter has more useful features than any other jump starter on our list. Besides jump starting your vehicle, it can charge laptops or comparable devices of three different voltages. The DBPOWER jump starter can also charge smartphones and tablets. The LED's bright-light mode is quite handy as the unit can be used as a road hazard/warning light.
Design Quality
The DBPOWER jump starter is portable, and it was built in the mold of the Spirit A8 car jump starter. Like most comparable units, has a hard plastic cover. We like the fact that this jump starter comes with a protective case that can help users to stay organized. One of the features that makes this jump starter stand out is the LCD screen which shows the battery level and warnings.
Reliability
The DBPOWER Jump starter is very durable. Its 18,000mAh battery can jump start a car 30 times over, although we recommend that you recharge the battery when it falls beneath the 75% mark. The drain rate of this battery is also low, and it can be carried around for three months without needing a recharge.
Pros
Two 2.4A USB output ports
Large, bright LCD Screen
It has traditional cigarette-lighter and wall-charger connections
Micro USB cable for mobile devices
Comes with a high-quality protection case
Equipped with an/off switch and auto-shutoff feature
Three-year warranty
Cons
Cable leads are short
No iPhone connection
The GOOLOO 650A jump starter is a powerful, yet portable, jump starter that can start gasoline engines up to 6.5L and diesel engines up to 5.0L. This jump starter can charge a vehicle up to 20 times on a single charge. It has a 12V/10A power output port that can also power machines like car coolers and portable air compressors.
This device can function in a variety of weather conditions across a broad temperature range. It features quality cables that help protect against short circuits, overcharging, overvoltage, and over-current issues. This jump starter has a 650-peak amp, 18,000 mAh power bank.
Accessories
The jump starter has an LCD screen that displays vital information about the battery. The device also has an LED light that can work as an SOS (hazard) or strobe light. Like the DBPOWER jump starter we also review here, this device has two USB ports. It has a protective case, and it comes backed by an 18-month warranty.
Ease of Use
At a weight of 2 pounds (and dimensions of 9.8 x 6.3 x 4.1 in.), the GOOLOO jump starter is easy to carry and use. This device can easily be tucked away in the glove box. Using it is easy; it basically involves establishing the connections and turning the car engine on.
Features
This portable jump starter is versatile. Its features are similar to those of the DBPOWER jump starter.
Design Quality
This jump starter weighs about 2.3 lbs. It is well built, with various ports and the LCD screens positioned for easy access.
Reliability
The battery of this device is reliable when the device is new, and you can charge a typical car about 20 times with one charge.
Pros
Very small and portable
Versatile LED light
Offers USB, phone, and laptop ports
Cons
Fragile cables
Battery fades with time, according to some reviewers
Choosing a Car Jump Starter
If you're looking to purchase a car jump starter, here are some important factors you'll need to consider.
Can revive a dead battery
It might sound obvious, but don't merely expect a jump starter to restart a dead battery unless the product description states it. For example, there are many jump starters that can top-up a low battery but don't have enough power to restart a dead source.
Portable size
You'll need to store your car jump starter in your vehicle for desperate times. Although a bulky device will have plenty of power that you need, you'll require a lightweight, small unit to store in your trunk. The average jump starter weighs around 20 pounds, so aim to keep the weight below this for portability purposes.
Cable length
The cable length plays a significant role in where you'll place your jump starter during use. Your desired location depends on your personal preference. If you store the jump starter on your car's hood during use, a small cable length will suffice. On the other hand, if you intend to keep the device on the floor while you charge your car, you'll need a cable length that can reach the jump starter and your car from a farther distance.
Voltage
Finally, you'll require a voltage that suits your vehicle. The average car comes with a 12-volt battery. But if you own a truck or bus, this will likely be 24 volts, so choose a device that matches your vehicle's requirements.
Conclusion
The Spirit A8 car jump starter is a high-quality unit that will meet the needs of most car and SUV owners. In addition to reliable jump starting, the A8 comes with a variety of laptop, phone, and tablet chargers.
However, a careful comparison of the features of the jump starters on our list reveals that the DBPOWER jump starter is the best jump starter overall. Equipped with an 18,000mAh battery, an eight-in-one laptop jack, two 2.4A phone charging ports, a flashlight, and a compass, this jump starter is cheaper, more versatile, more reliable, and more durable than the Spirit A8 car jump starter.
Drivers of heavier vehicles have a solid option in the JNC660 jump starter. Although this jump starter does not have phone or laptop charging features, it is the only jump starter on our list that will reliably jump start engines 6L and larger.