*This post may contain affiliate links. As an Amazon Associate we earn from qualifying purchases.
Is it time to upgrade that tired air compressor to get some real power back into your air-powered tools? Are you tired of an older model, or just need something that can keep up with you in the shop? An Ingersoll Rand air compressor may be perfect for your needs.
Ask avid car enthusiasts and nearly every one of them has had a pleasant experience with this iconic air compressor.
In fact, you could say the Ingersoll Rand air compressor is a household name. And the reason for that is pretty simple – it's a darn good compressor.
Air compressors are an integral part of every mechanic's garage – home or professional. They store compressed air that is needed to run most hand tools. No matter how good your tools may be, if you're running a poor air compressor, you won't get the best out of them.
Choosing the right compressor for you means really understanding your needs and how they are best met.
If you have a car then you need to have a safety kit in it.
This Emergency Preparedness Kit is a vital thing to carry with you in all of your vehicles as it will help not only in the case of a weather emergency but also in case of a breakdown.
About Ingersoll Rand The Company
The story of Ingersoll Rand dates all the way back to 1871 when two drilling companies came to be – the Ingersoll Rock Drill Company and the Rand Drill Company. Little did the founders know that these rival companies would one day merge to become one of the biggest companies in the world.
But the two companies did join forces in 1905 to become the mighty Ingersoll Rand Company. Before that, the Ingersoll Rock Drill Company had already combined with Sergeant Drill to form Ingersoll Sergeant Drill Company in 1888.
Along the way, mainly through acquisitions, the Ingersoll Rand Company grew to become a major player on the global scene and in many industries.
In the early 2000's the company shed off some businesses in its mechanical companies portfolio so as to streamline itself and rebrand itself as more of an industrial label.
With such a rich history, it becomes obvious why the Ingersoll Rand air compressor line is so popular the world over. It comes from a good pedigree.
Overview Of The Ingersoll Rand Air Compressors
Ingersoll Rand is a household name in the construction industry. For more than a hundred years, the company has manufactured and supplied quality tools for both professionals and hobbyists. And when it comes to air compressors, nothing beats an Ingersoll Rand air compressor.
Ingersoll Rand has mastered the art of designing and creating some of the most efficient air compressors on the market. Whether you are looking for a powerful two-stage industrial compressor or a portable single-stage compressor for your carpentry needs, there's an Ingersoll Rand air compressor for you.
As a powerhouse in the compressor industry, Ingersoll Rand builds quality products that are not only efficient but also durable. And that's probably why you want to get yourself an Ingersoll Rand air compressor.
Build Quality
When it comes to build quality, one of the greatest strengths of the Ingersoll Rand air compressor line is that they are all well-built. With most of their compressors coming with industrial grade build quality and materials (like cast iron cylinders), Ingersoll Rand air compressors are a favorite among professionals and home users.
Power
Another great common thread among Ingersoll Rand air compressors is that they have excellent power ratings. And this is even when using a domestic power supply for the smaller models. As for power, you will find an Ingersoll Rand air compressor that suits the power your tools demand.
For a regular car repair workshop, you'll probably need anything in the range of two to six horsepower. That will be enough to provide the required CFM and PSI levels you will need to power your tools or simply to inflate tires.
Ease Of Use
When it comes to using an air compressor, whether in a professional shop or in your garage, it is important that the compressor be easy to use and move around. That is where an Ingersoll Rand air compressor is a great choice. Featuring ergonomic designs that make it easy for you to work, you'll be glad to have one in your shop.
Why Should You Trust This Review?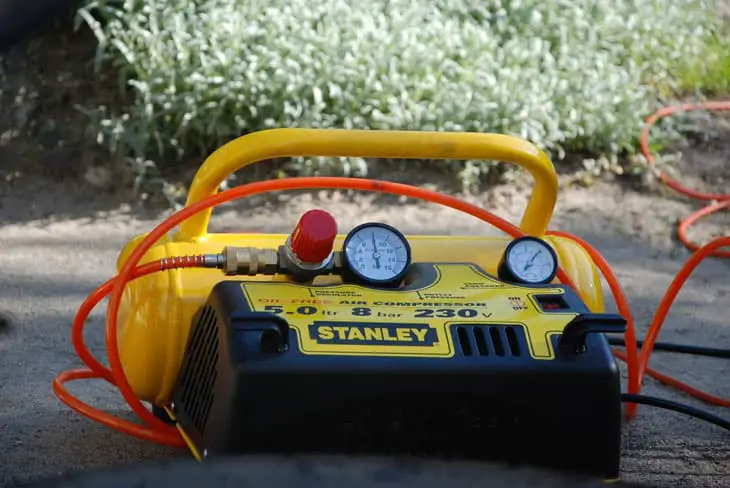 Not all air compressors are the same. That's why, to give you an unbiased review, we took a lot of factors into consideration. Factors that including technical specifications of each compressor, such as design, build quality, capacity, horsepower, CFM rating, and the PSI rating. These determine how many tools you can connect to your compressor and how well it will perform.
We also took customer reviews into consideration, both negative and positive. User reviews are critical as they provide firsthand information about the product.
The Ingersoll Rand Air Compressor – 5 Models To Consider
Now that you know what to expect from an Ingersoll Rand air compressor, let's go ahead and get you one. Here are some of the best models you can set your eyes on to make your final choice.
Ingersoll Rand SS5 60 Gallon Air Compressor
The Ingersoll Rand SS5 (found here) is a pricey air compressor compared to many other compressors in its category. But what it takes away from you in the form of money, it pays back very well in the way it performs.
Specifications
5HP
230V
Up to 11.3CFM
Single phase
100 percent duty cycle
60-Gallon vertical compressor
The Ingersoll Rand SS35 is a powerful air compressor that runs on a beast of a 5HP single-phase motor. It's capable of producing enough power to handle even some of the more difficult tasks, particularly those that require you to use multiple tools.
While this Ingersoll Rand air compressor is for professionals, it can easily fit in with any kind of home use, due to its superb safety features. One such feature is the thermal overload protection that protects the motor from being burnt out. It also features a manual rest switch that will get the compressor running again if the automatic thermal overload protection was affected in such a way that it can't reset itself.
The build quality of this Ingersoll Rand air compressor is superb. It has to be since it packs so much power, a flimsy housing just wouldn't cut it. Made from tough and durable cast iron and featuring a belt comparable to those found in high-powered cars, this is one compressor that can handle anything you throw at it.
Especially with a 100 percent duty cycle and the fact that it is oil lubricated, you can literally run this compressor the whole day without it breaking a sweat.
With all the good things going on for it, it can be difficult to notice the one major flaw it has. Until you decide to move it that is. Because the SS5 is a 178-pound beast, it is difficult to move because it doesn't come equipped with wheels.
If you are looking for a compressor, especially an Ingersoll Rand air compressor and price is no object, this compressor is it.
Twin-Stack P1IU-A9 2 HP 4 Gallon Portable Air Compressor
If a portable yet portent air compressor is what you are in need of, then you'll love the Ingersoll Rand P1IU-A9 (found here). The P1IU-A9 is a low-sitting twin-stack air compressor reminiscent of a pancake type compressor but only more square.
A feature that makes it easy to keep the compressor out of the way.
Specifications
2HP
15A
Up to 4.3CFM
Single-stage
100 percent duty cycle
4-gallon capacity
77 pounds
The 2HP single-stage piston motor gives you enough power to run your tools without any hiccups as it is well able to produce a strong 135 PSI at 3.2CFM comfortably. But if you want to squeeze a little bit more juice out of this Ingersoll Rand air compressor, you have an option of easily running 90 PSI at 4.3CFM.
One of the biggest advantages of this tiny tornado is that despite the amazing power, it's conservative when it comes to drawing amps. It only draws 115V and 15A, making it one of the most power efficient air compressors on the market.
This makes the P1IU-A9 a great option if your house suffers from bad circuitry or you simply need an air compressor that will be gentle on the electricity bill. And being rated at 79dB of noise level, it will also save your ears from being damaged.
Despite not having any wheels, this is one air compressor that is easy to move around, thanks to it having an ergonomic handle on top. That and the affordable $$ to $$ price tag make it a fan favorite.
Ingersoll Rand P1.5IU-A9-H Garagemate 20 Gallon Horizontal Air Compressor
On your search for a new air compressor, one Ingersoll Rand air compressor you'll definitely bump into is the SS​​3F2-GM Garage Mate (found here) . This is a large air compressor that sports a 30-gallon horizontal tank and a 2HP single stage motor.
Specifications
2HP
Gas –powered
Single stage
100 percent duty cycle
20-gallon horizontal cylinder
185-pounds
Although this is probably one of the priciest compressors in its category, it's also one of the best as it is future-proofed. The Garage Mate comes with many advanced features that many hobbyists might not even use. For instance, with a continuous duty cycle, this Ingersoll Rand air compressor intelligently manages itself so that it doesn't get overloaded.
It allows you to continuously work without having to wait for it to regenerate more air.
When it comes to design, the Ingersoll Rand SS3F2-GM is as solid as they come. Every little detail is there to produce a well-balanced, sturdy, and easy to use air compressor. The only two disadvantages of this Ingersoll Rand air compressor are its weight and the fact that it's a power-hungry machine.
But for an air compressor this powerful, that is to be expected. And for those who need a lot of power, this is a normal compromise. However, you also have an option to switch to a mode that allows for 5.7ACFM at 90PSI.
If you are looking for an air compressor that has enough power to allow you to do virtually anything, then this 3.7 out of 5 stars rated Ingersoll Rand air compressor is it. Even though it may burn a $700 to $800 hole in your pocket, it's definitely worth the investment.
Ingersoll Rand 2475N7.5-P 7.5hp 80 gal Two-Stage Compressor
If price is not a factor in your quest for the best Ingersoll Rand air compressor, then the Ingersoll Rand Comp Air​​ 7.5HP (found here) is one powerful beauty you just have to get.
Specifications
7.5HP
230V
Two-stage
100 percent duty cycle
80-gallon vertical cylinder
605 pounds
The Comp Air uses a very powerful 7.5HP two-stage motor that is capable of producing a whopping 175PSI of pressure and an airflow rating of 24CFM. With such power, you have no fear of running out of juice no matter how many tools you connect.
In all honesty, this is a near flawless compressor. The only thing missing are the wheels to make it mobile. Other than that, this is a powerful air compressor that can do absolutely anything you need. But this kind of perfection comes with a hefty price tag.
And for this 5 out of 5-star rated Ingersoll Rand air compressor, that price is in the range of $$$ to $$$.
How The Ingersoll Rand Air Compressor Stacks Up Against The Competition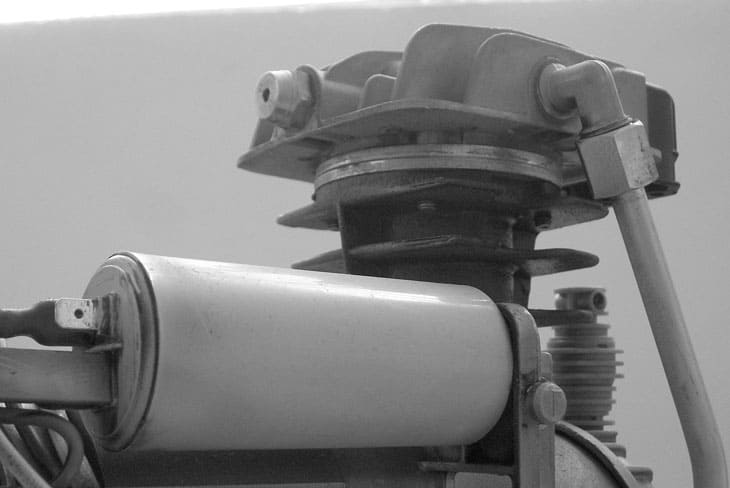 So what exactly sets the Ingersoll Rand line of compressors apart from the rest?
Well, to fully answer that question, we need to pit this iconic air compressor brand against some of the other big players in the industry.
Ingersoll Rand Air Compressor VS. DeWalt Air Compressor
One of the most popular tool companies in the US, DeWalt, also makes some of the best air compressors too.
When it comes to a head to head with Ingersoll Rand, DeWalt only has one advantage – price. Other than being cheaper than an Ingersoll Rand air compressor, DeWalt air compressors are blown away by the build quality, engineering, and power of Ingersoll Rand air compressors.
For example, when considering the powerful 7.5HP models, the DeWalt garnered a 3.5 out of 5 stars rating even with its $$$ to $$$ price range.
Ingersoll Rand Air Compressor VS. Quincy Air Compressor
When it comes to high-end quality air compressors, there are always two names that make the top of the list – Ingersoll Rand and Quincy
Being in the same price range and having similar power ratings across their categories, the race is a close one. But when it comes to quality, reliability, and customer support, Quincy falls behind.
To put it in perspective, when comparing the yet to be rated $$$ to $$$ Quincy QP-7.5 air compressor to the equally powerful Ingersoll Rand Comp Air 7.5HP two-stage compressor, the Ingersoll Rand comes out tops. That is mainly due to it being slightly cheaper and sporting a more ergonomic design among other factors.
Pros & Cons of Ingersoll Rand Air Compressors
Ingersoll Rand is a well-known manufacturer of air compressors, offering a variety of models for different industries and applications. While these air compressors have gained a reputation for their reliability and performance, it's important to weigh both the advantages and disadvantages before making a purchase decision.
In the following table, we've compiled a list of 10 pros and 10 cons to help you better understand the key features, benefits, and potential drawbacks associated with Ingersoll Rand Air Compressors. Keep in mind that these points are general observations and may not apply to every model in their lineup.
| Ingersoll Rand Air Compressors Pros | Ingersoll Rand Air Compressors Cons |
| --- | --- |
| 1. Reliable performance | 1. Higher initial cost |
| 2. Durable construction | 2. Heavy and bulky units |
| 3. Wide range of models and capacities | 3. Noise levels can be high |
| 4. Energy-efficient options | 4. Some models may require a dedicated power supply |
| 5. Low maintenance requirements | 5. Availability of replacement parts |
| 6. Excellent customer support | 6. Limited warranty coverage |
| 7. Easy integration with other systems | 7. Not all models are suitable for all applications |
| 8. Longevity and solid reputation in the industry | 8. Older models might lack modern features |
| 9. Quality components and materials | 9. Expensive maintenance and repairs |
| 10. Advanced monitoring and control features | 10. Some users may find the interface complex |
Now let's go into a bit more detail regarding some of the most important pros and cons of Ingersoll Rand Air Compressors mentioned in the table above.
Pros:
Reliable performance: Ingersoll Rand Air Compressors have a reputation for consistent and dependable performance. They are designed to deliver high-quality compressed air, even under demanding conditions. This reliability is crucial for many industries where a continuous supply of compressed air is required, and downtime can lead to significant losses.
Durable construction: Ingersoll Rand Air Compressors are built using high-quality components and materials, ensuring their durability and long service life. Their compressors often feature robust cast iron or steel frames, corrosion-resistant coatings, and precision-machined components. This durability makes them a suitable choice for harsh operating environments and heavy-duty applications.
Wide range of models and capacities: Ingersoll Rand offers an extensive selection of air compressor models, varying in size, capacity, and pressure output. This variety ensures that customers can find a suitable compressor for their specific needs, whether it's for automotive, industrial, or construction applications. From small portable units to large stationary systems, Ingersoll Rand has a solution for nearly every requirement.
Energy-efficient options: Many Ingersoll Rand Air Compressor models are designed with energy efficiency in mind. Features such as variable speed drives, advanced control systems, and energy recovery options help minimize energy consumption and reduce operating costs. These energy-efficient models not only save money for the end-user but also contribute to a lower environmental impact.
Cons:
Higher initial cost: Ingersoll Rand Air Compressors are known for their quality and reliability, but this often comes at a higher initial cost compared to some competitors. While the investment may pay off in the long run through reduced downtime and lower maintenance costs, it may be a significant consideration for those on a tight budget.
Heavy and bulky units: Some Ingersoll Rand Air Compressor models can be quite large and heavy, especially the industrial-grade models. This can make installation, transportation, and space requirements more challenging, particularly for small workshops or locations with limited space. It's essential to consider the size and weight of the compressor before making a purchase.
Noise levels can be high: Air compressors, in general, can be noisy, and some Ingersoll Rand models are no exception. High noise levels can be disruptive in certain environments and may require additional investments in noise reduction measures, such as soundproof enclosures or installing the compressor in a separate, isolated area.
Expensive maintenance and repairs: While Ingersoll Rand Air Compressors are designed for low maintenance requirements, when maintenance or repairs are needed, they can be costly due to the quality of components and materials used. Additionally, finding replacement parts for some models may be challenging, leading to longer downtimes and higher repair costs.
In conclusion, Ingersoll Rand Air Compressors offer numerous advantages in terms of reliability, durability, and performance. However, it's essential to consider potential drawbacks such as higher initial costs, noise levels, and maintenance expenses.
Evaluate your specific needs, budget, and application requirements to determine if an Ingersoll Rand Air Compressor is the right choice for you.
The Ingersoll Rand Air Compressor – Blowing the Competition Away
When it comes to productivity in your workshop, a good air compressor makes all the difference. And if you are looking for an air compressor to increase your productivity, an Ingersoll Rand air compressor is the solution you need.
No matter which other air compressor brand you compare it to, Ingersoll Rand will always blow them out of the competition