*This post may contain affiliate links. As an Amazon Associate we earn from qualifying purchases.
Honda is a significant international company that sells power machines all over the world. In the U. S., the Honda American Power Products Division sells small engines, lawnmowers, generators, water pumps, tillers, and snow blowers, but they do not sell a Honda pressure washer.
Honda manufactures and sells Honda pressure washers only in Japan. However, there are many pressures washers in the USA that have a Honda moter that powers them.
Worldwide, 51 manufacturers of power equipment buy Honda engines to operate their equipment, and 16 brands that are sold in the U.S. manufacture their pressure washers with Honda engines.
If you have a car then you need to have a safety kit in it.
This Emergency Preparedness Kit is a vital thing to carry with you in all of your vehicles as it will help not only in the case of a weather emergency but also in case of a breakdown.
About Pressure Washers Powered by Honda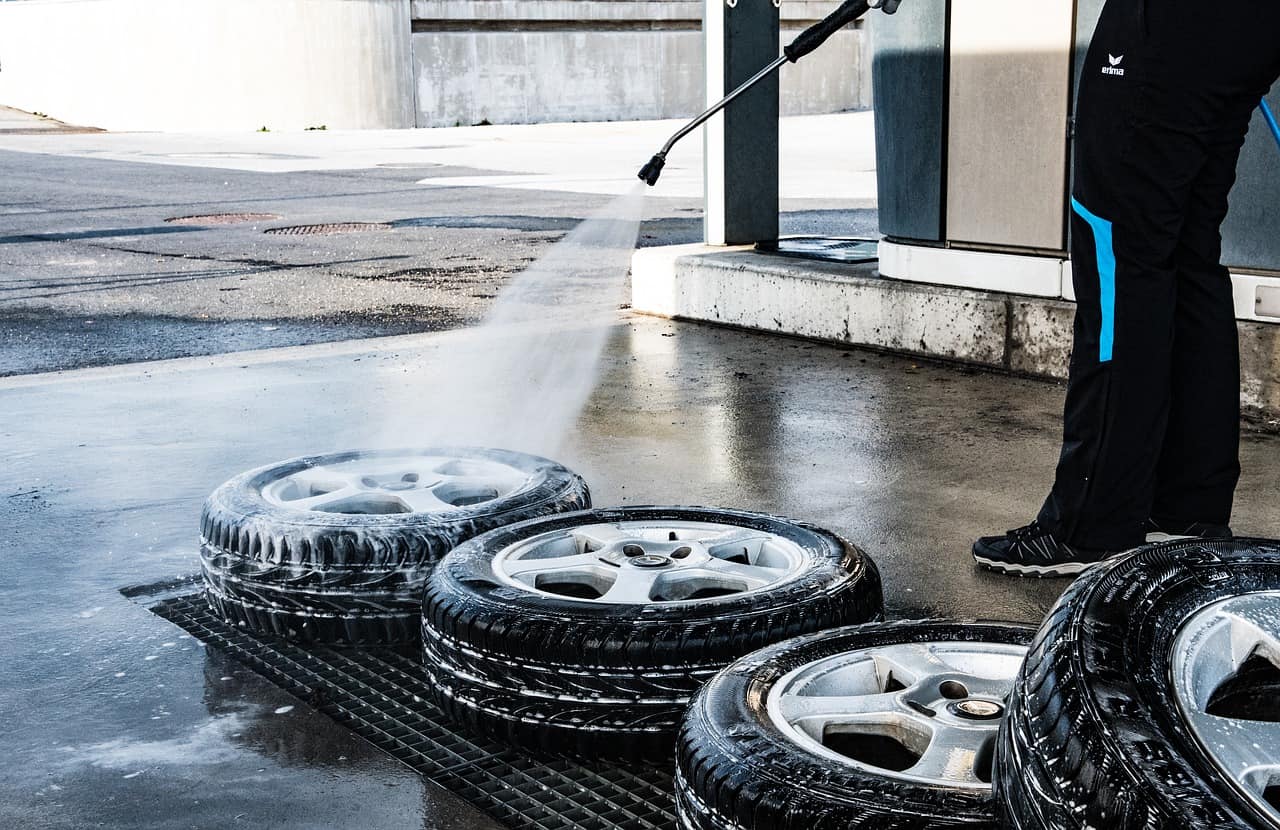 Honda pressure washer engines range from the GC series of engines, designed for home use, to the GX series of engines designed for use in commercial equipment. These engines are used in a variety of top-selling, highly rated pressure washers for both home and commercial use.
Manufacturers choose Honda pressure washer engines because of the company's commitment to the integrity of its brand, their long-standing reputation for high quality, and the willingness of Honda to stand behind its equipment.
Product Specs of Honda Pressure Washer Engines
The Honda engines used in pressure washers range from 160CC to 390CC. All of the Honda engines are in compliance with EPA and CARB emission standards. The GC Series of engines is intended for use in residential machines while the GX Series is for small engine commercial equipment.
There are distinct differences between the series. The GC has an aluminum cylinder sleeve while the GX has cast-iron one. In the GC models, the user needs to check the oil level at each use, while the GX engines will automatically detect a low oil level and shut off the engine.
The GX has a fuel shutoff valve allowing the user to run fuel out of the system when the unit will be stored or if the carburetor has to be removed. In the GC models, a small amount of fuel will remain, which may cause damage to the carburetor if the machine is in storage.
The GC has a plastic gas tank and other plastic parts that are steel in the GX models. The GX models have much larger fuel tanks than the GC models since they are designed to power equipment that might run all day every day.
In head-to-head comparisons between Honda engines and its competitors, there are some that come close and may even have some advantages over the Honda engine, but overall the Honda will be price competitive and have the advantage of the Honda brand name.
Many users of the models we are reviewing refer to the Honda engine as a reason for their selection.
How Equipment with Honda Pressure Washer Engines Compares
We picked four pressure washers that have Honda pressure washer engines installed in them to explore the range of equipment available and to see how they compare. We took a look at three home use machines, and the fourth is an entry-level commercial model.
There are four in our comparison:
SIMPSON MSH3125-S MegaShot
Karcher G3100XH Gas Pressure Washer
PowerBoss Gas Pressure Washer
Pressure Pro E3027HG Heavy Duty Professional
SIMPSON MSH3125-S MegaShot
The Simpson MegaShot (found here) is a powerful power washer at a good price. This model is intended for the homeowner looking for maximum performance for a modest investment. It is intended to handle demanding cleaning jobs with its gas-powered Honda GC190 engine. At 3200 PSI and 2.5 GPM, this power washer can remove dirt and mildew from hard-to-reach spots.
The 1/4 inch by 25-foot MorFlex high-pressure hose is kink resistant and has M22 connectors for a secure and safe fit. This power washer is lightweight enough to be easily moved by one person.
The Simpson MegaShot is the most popular model with a Honda pressure washer engine. The Honda GC190 has 3,100 PSI at 2.5 GPM and plenty of force for home outdoor cleaning needs. With the right nozzle choice, you can clean your vehicles, outdoor furniture, house siding, patios, decks, and driveways.
Features
The Simpson MegaShot power washer has 10″ pneumatic tires, the spray gun has a safety lockout, and there are five nozzles (0°, 15°, 25°, 40°, and a soap applicator nozzle) for good results on whatever surface you are cleaning.
PSI ​
The Simpson MegaShot operates at 3200 PSI and 2.5 GPM.
Engine Type
This pressure washer has the Honda GC 190 engine.
Warranty
There is a two-year limited consumer warranty on the engine, a one-year limited warranty on the pump, and a five-year limited warranty on the frame.
Pros
Moderately priced for a powerful home model pressure washer
Has five different nozzles tips for cleaning at almost any angle
Easy to start
Customer service gets good reviews
Has MorFlex 25′ kink resistant hose
Cons
Reports of missing parts
Oil filter needs to be replaced before use
Karcher G3100XH Gas Pressure Washer
The Karcher ​​G3800OHT Gas Pressure Washer (found here) is designed for the home user who wants good cleaning performance from a model that is easy to use and store. Karcher sells more pressure washer units than any other manufacturer in the world.
They sell electric and gas-powered washers for both home and professional use. This model uses the Honda GC190 to create 3,​800 PSI at ​3.​2 GPM through its axial cam pump. The folding handle makes this pressure washer compact when it's not in use and it will have a small footprint in the garage or storage shed. It has a welded steel frame.
No tools are needed to get this power washer ready to use.
Features
This Karcher Gas Pressure Washer has 12-inch pneumatic tires, a detergent tank that is easy to remove, refill, and clean, and onboard storage of the interchangeable accessories. With its four spray nozzles and dual-action triggers, there are multiple ways to spray at any angle.
The folding handle makes it easy to store or transport.
PSI ​
This machine produces 3​,800 PSI at ​3.2 GPM.
Engine Type
The Karcher ​G3800OHT has a Honda G​X270 engine.
Warranty
There is a ​three-year limited warranty.
Pros
Compact and easy to store when not in use
Comes with 12-inch pneumatic tires
Nozzle options to reach any angle
Cons
Users warn to keep hose away from the engine as melting has occurred
Some users report issues with oil leakage and oil in the filter when the product arrives
PowerBoss Gas Pressure Washer
The PowerBoss Gas Pressure Washer (found here) is actually a brand of Briggs & Stratton. The company created this branding using the Honda GC190 engine as a way to capture more of the power washer market.
Features
The PowerBoss model at 3100PSI and 2.8GPM is intended for moderately heavy home use and is capable of cleaning driveways and being used for paint preparation as well as for cleaning decks, patios, and siding. It comes with four nozzle tips at 0, 15, and 40-degree angles and a soap tip.
It has a steel spray gun, pneumatic wheels, a one-gallon detergent tank, and a 25′ hose.
PSI ​
This PowerBoss model produces 3100 PSI and 2.8 GPM. A smaller model and more powerful model are also available in this line.
Engine Type
This power washer has the Honda GC190 187cc engine.
Warranty
There is a 24-month limited consumer warranty when the pressure washer is purchased for home use and a 3-month limited commercial warranty when it is used commercially.
Pros
Three engine sizes and price options in this brand
One gallon detergent tank
Four nozzle tips
Cons
Some users have experienced oil leak issues
More expensive than other models with similar power and features
Can only run off a 50-foot garden hose so needs to be moved on big outdoor jobs
Pressure Pro E3027HG Heavy Duty Professional
The Pressure Pro E3027HG Heavy Duty Professional power washer (found here) is powered by a 6.5 horsepower Honda engine. It has a 50 foot 4000 PSI hose. It has a strong frame and 3/4 inch cold-rolled steel axle. At 125 pounds it is almost twice as heavy as the other models we are comparing.
This is Pressure Pro's most affordable machine for use by power washing contractors, which makes it an excellent choice for someone just getting started in the business or someone who wants a backup machine to their more powerful washers.
Features
This Pressure Pro power washer has a very strong frame made of aircraft-grade aluminum. It has dual handles, a mesh inlet filter to protect the engine from dirt, an adjustable pressure unloader, and a low oil indicator shut down.
The pneumatic tires make it easy to run this power washer over any surface.
PSI ​
This model operates at 2700 PSI 3 GPM.
Engine Type
This power washer has a 6.5 horsepower GX200 Honda engine; a commercial-grade engine capable of long running time. A thermal sensor prevents overheating on the unit.
Warranty
The GX200 engine has a three-year commercial use warranty.
Pros
Very powerful power washer
Pneumatic tires
Strong aircraft quality aluminum frame
Cons
More expensive than other power washers in this comparison
Conclusion
We reviewed three models of pressure washers that are designed for at-home all-purpose cleaning, including driveways, patios, and siding, and one model that is a commercial level machine. All three of the residential models use the Honda GC190 engines, and the commercial model has the GX200 engine.
All four of these are highly regarded pressure washers with positive reviews by people who have purchased and used them. All three are quite similar in their features, accessories, and other specs and are excellent sellers with high ratings.
The one commercial model, the Pressure Pro Heavy Duty Professional, is powered by the commercial-grade GX series Honda engine. This model is described as an entry-level commercial pressure washer.
Like the home models, this machine gets high marks from end-users.
The Honda engine is a big reason for the popularity of all of these models. The excellent performance of these engines is the reason these different manufacturers have chosen Honda. Customers who purchased each of these refer with pride to the fact that their pressure washer has a Honda engine.
The star of this review is the Honda engine. The models selected for review all emphasize the excellence of the Honda pressure washer engine. We give the Honda GC and GX engines which power so many fine pressure washers our highest recommendation.