*This post may contain affiliate links. As an Amazon Associate we earn from qualifying purchases.
If you have a Walmart auto care center near you then having some mechanical things done at Walmart can save you a lot of money. This is especially true when compared to the cost of getting the same thing done at a dealership.
If you hear your brake calipers hanging up, notice some brake fluid leaking from your car, have your brake pedal go all the way to the floor, or hear your brakes grinding or squealing you will know it is time for some new brakes or brake repairs.
Since Walmart's auto centers offers many different services at affordable prices at their tire and lube you might be wondering if they also offer new brake pads or other brake services.
So does Walmart change brake pads or offer other brake services?
Walmart Auto Care Centers do not currently offer any brake services at their auto centers. You cannot get your brake pads replaced, your calipers fixed, or anything else involving your brakes done at any Walmart Auto Center.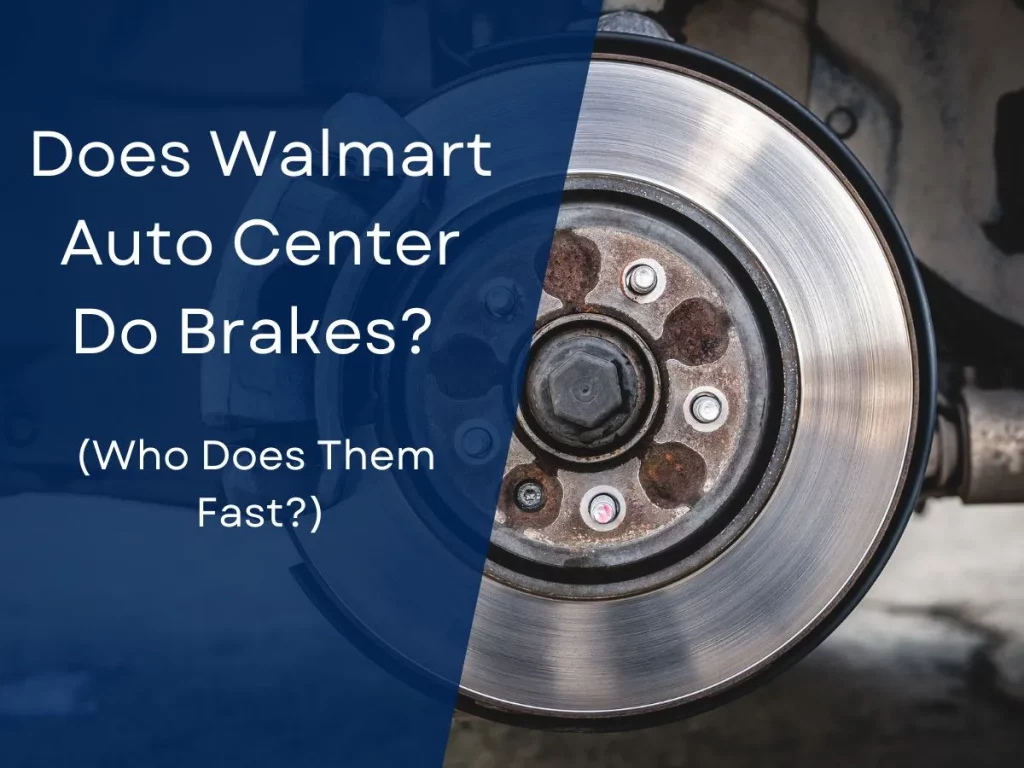 Some of the best options as an alternative to Walmart that will actually get you new brakes, pads, rotors, etc. for a reasonable price are:
Jiffy Lube
Pep Boys
Brakes Plus
Valvoline
Quicklane
Express Oil
The average brake replacement cost will vary depending on the vehicle that you have, which type of brakes you choose, and whether the rotors or other parts of your brake system need to be replaced. In general you can expect to pay between $200 and $500 to get your brake pads replaced, your rotors turned, and everything up to par.
All of these shops offer brake services (most offer free brake inspection as well), oil changes, tire rotations, and more. All for far cheaper than what you would pay at a dealership or other similar mechanic shops.
Walmart's auto centers only offers basic auto maintenance services. Currently they offer the following services.
Air Filter Replacement
Battery Services
Fuel System Services
Headlight Services
Light Bulb Installation
Oil and Lube Services
Tire Services (tire installation, tire mounting, tire rotation, tire balancing, tire repair, & lug nut replacement)
Valve Stem Installation
Windshield Wiper Replacement
As you can see from the list above you can't get your brakes done at your local Walmart unfortunately. That could certainly change in the future however, I personally feel that it's unlikely as Walmart tries to offer fast services (although their services being fast is certainly debatable) and although a brake job could be done quickly it can also bring up a lot of other problems which they will not want to deal with.
Walmart mechanics (and I use that term loosely) can only do certain repairs (even if they are knowledgeable enough to do them). The reason for this is because Walmart doesn't want to get into the business of fixing cars and instead wants to offer the most profitable and easiest services. Hence why they offer oil changes, tires, filters, and other basic things instead of offering the more difficult services.
Virtually anyone can be trained to change the oil or tires on a car but would you really want someone who has worked at Walmart for a couple months to be replacing your brakes, bleeding the brake lines, etc.?
Does Walmart Sell/Replace Brake Rotors?
Not only does Walmart not change brake pads but they don't sell brake rotors or replace them in your local Walmart auto service center either. As is the case with brakes Walmart doesn't want to take on jobs that require a lot of knowledge for their workers as it means they would have to compete with dealerships and other mechanic shops for better mechanics which in turn would raise the cost of running the auto centers.
Virtually anyone can replace oil, tires, etc. but not everyone will know how to properly replace the rotors on a car!
Can you imagine how much money people would sue Walmart for if their brakes failed when they had just got a brake job done at Walmart?
So, as of now, Walmart does not sell or install brake rotors at any of their stores or in the auto center.
Does Walmart Sell Brake Pads? (In Store Or Online)
Walmart does sell brake pads online however, they are sold by third party sellers on Walmart's website and are not actually sold by Walmart itself.
You will not find any brake pads for sale inside of any Walmart store as Walmart only wants to carry items that are in high demand or are mostly universal (like types of oil or windshield wipers). Since there are so many different types and sizes of brake pads for the wide range of car years, makes, and models Walmart just doesn't carry in brake pads in stores.
You might think that buying brake pads on Walmart.com would save you a bit of money when compared to buying them at a local auto parts store; however, it is often cheaper to get them locally if you can.
The prices that the third party vendors on Walmart's website sell the brake pads for are typically higher than what you could get them for locally and sometimes even higher than what you could buy them for on other auto parts websites.
How Much Is A Brake Job At Walmart? (Or Other Places)
As mentioned earlier Walmart does not change brake pads or offer any other brake services at their auto centers so there quite simply isn't a price for getting it done at Walmart since they don't offer that as a service currently.
There are many other places that do offer brake services and if you are budget conscious then taking it to one of those discount places is a great choice as they will often save you quite a bit when compared to a normal mechanics shop or the dealership.
Brake services can typically be found at most tire places and prices will vary from state to state and location to location. What I personally have found is that getting your brakes done at a dedicated place such as Brakes Plus (if you have one near you) will be cheaper than getting it done at a normal mechanic or even a tire shop.
The best thing to do is call around to all of your local tire shops, give them your make/model and tell them what needs to be done and get a quote. I would only get quotes over the phone and if they refuse then just move on to the next one as they know once they have it up on the rack and you've wasted your time taking it there then they are likely to get your business even if they are more expensive than the guy down the street.
Always call around, get quotes over the phone, and then decide which place is best for you based on the prices and their reviews/reputation.
What Services Does Walmart Tire & Lube (Auto Center) Offer?
If you are wanting to know exactly which services that you can get done at Walmart without having to call them or spend hours searching online then this section is for you!
The list of services below is just what they currently offer however so some services could be removed or added in your local area.
The current services that Walmart offers at their Tire & Lube/Auto Centers are:
Oil Changes/Lube Service
Tire Mounting
Tire Balancing/Rotation
Valve Stem Installation
Flat Tire Repair
Lug Nut Replacement
TPMS Relearn
Fuel System Service
Wiper Blade Installation
Air FIlter Installation
Headlight Restoration
Headlight Installation
Miniature Bulb Installation
Battery Installation
Battery Non-Corrosion
Battery Terminal End
The list above is currently all of the services that Walmart offers. The prices will of course vary depending on the type of service and whether you purchase the item at Walmart (in the case of tires, batteries, and air filters) so I didn't want to give the exact prices.
Currently the most expensive service that Walmart offers is the Synthetic oil change for $49.88 but of course tires would be more expensive than that since you have to purchase the tires before you would need the mounting and balancing service.
Can You Schedule An Appointment At Walmart Auto Centers?
Unfortunately, the Walmart Auto Center does not offer any kind of service appointment scheduling so no matter if you call ahead or not it will still be a first come first serve basis.
Many people think that if they call ahead it will secure their spot in line but that quite simply isn't true. If you drop off your car without calling ahead or if you call ahead, either way you will still get the same spot in line… whichever is next.
Even if you get new tires you still can't make an appointment and they will simply do the tires when it is your turn in line.