*This post may contain affiliate links. As an Amazon Associate we earn from qualifying purchases.
Taking on a classic car restoration project is a fulfilling hobby. You revive a vehicle that had seen better days, and make it look and run better than when it was new. It's hard to beat the satisfaction which comes from seeing a car go through a total transformation, and knowing that you were responsible for the changes.
Handling a car restoration can appear overwhelming at first blush. With the right approach, however, you can take on the task and come out the other side with a beautiful car as a reward. When you sit behind the wheel and see heads turn, you'll take a little extra pride knowing that the car isn't just yours, but that it's your hard work that made it shine.
Knowing It's A Good Fit For Car Restoration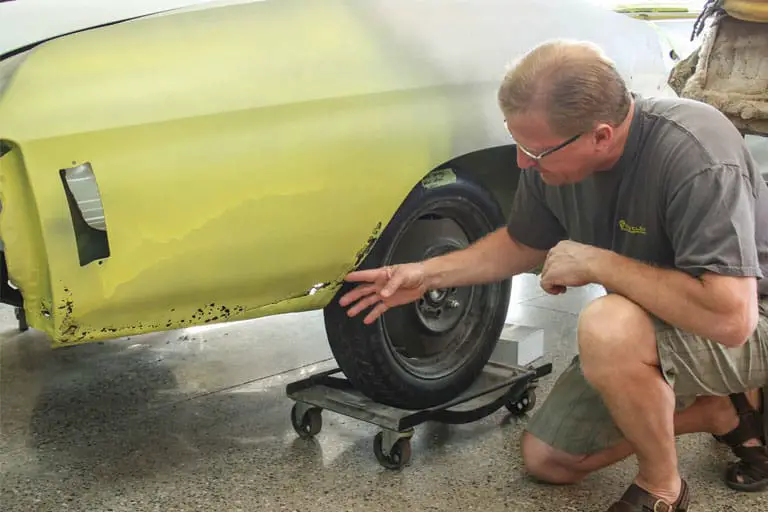 The most important part of beginning a classic car restoration project, is to make a reasonable assessment of your skills and finances. Note everything on the car which needs to be fixed up or tweaked. Also, assess what your abilities are, and how much time you can commit to the project.
You don't need to be able to complete everything on your own, but the more you do, the less expensive, and more fun, your classic car restoration will be.
On the upside, you can learn to do nearly anything your car will need to complete a restoration project. Approach your project from a realistic starting point to avoid getting frustrated at the rate of progress. If the car restoration project you are targeting is likely to require skills you lack, and you do not have the additional time to learn those skills, you should consider taking on a different car for better results.
However, if you have the available finances to hire a professional for the trouble spots, you can proceed with the knowledge that your result will be an awesome ride.
Why Take On Car Restoration On Your Own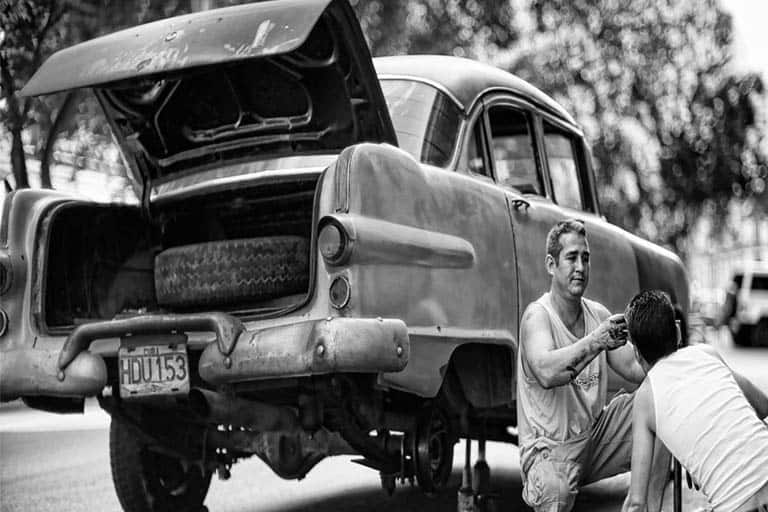 Many professionals make their livings with careers in car restoration, and they do excellent work. They are a great resource for those who want a premier restored vehicle, but don't want grease under their fingernails.
However, if you are a car nut and enjoy tinkering, or have never done it but are eager to start, taking on a car restoration project is an experience which cannot be topped.
A classic car restoration project is not only a fun and rewarding task to take on. It is also a more cost-effective alternative to hiring the work out to a professional. By completing the labor yourself, you significantly reduce the costs of car restoration.
You only have to pay for parts, not the labor.
The entire process of your classic car restoration does not have to be an either-or situation. If you want to work on your own restoration, but have bitten off a little bit more than you can chew, there are options. You can do some of the work yourself while hiring a specialist for the parts, which you don't feel comfortable completing on your own.
There is no wrong way to handle your classic car restoration. Enjoy the ride, and so long as you love the car you end up with, your project is a success.
Where To Begin
No two classic car restoration projects are entirely alike. The work you need to do will be determined not just by the final product you are looking to achieve. You will also need to assess the extent of your car's dings, dents, and doomed parts.
From the purely aesthetic elements to the guts of the vehicle which keep its motor humming, be prepared to have to work on the many different areas of your car to achieve the end product you desire.
Interior Detailing
Cleaning up the interior of your vehicle is an essential step in any classic car restoration project. Returning your car's interior to the beautiful look that it came off the line with is vital for any show car.
Refinishing also makes the experience of anyone riding in the vehicle significantly more enjoyable.
Reupholstering is the most challenging task of interior restoration. In an ideal world, your project car will need only minor touch up work. However, more often the insides of a restoration project require a massive overhaul.
Whether you want to reupholster your vehicle to change the style or because the existing upholstery is beyond repair, you should always take a careful, considered approach to the process.
Determine if you need to hire a professional upholsterer. If you decide that your sewing skills are up to the task, remove the seats first to gain easier access. Take the upholstery off the seat framing and padding.
Lay it out atop the new fabric to trace your cut lines. Be sure to leave seam allowances and to tack curved areas. This ensures that your fabric will be in the correct shape to refit on your seats following sewing.
In addition to repairing the seats, it's important you make the rest shine, too. Give all surfaces a thorough cleaning and polishing. It is likely that the front dash and doors of the car have accumulated wear and tear.
From small nicks in the finish to dirt and dust, making it all like new is a key part of your car restoration process. Use a vinyl repair kit to patch up small cuts in the finish. Polish with a clean rag following your touch-ups to make it sparkle.
Exterior Detailing
Ideally, your classic car was kept in a sheltered setting. If not it is likely that you will have to do some work cleaning up the exterior detailing. The most obvious problem area is the paint job. It is also a step which goes a great way to solving multiple problems.
If your car suffers from minor rust, you can generally sand away the problem spots to create a smooth surface. With a layer of paint applied any signs of a problem disappear. If you have decals to add on top of your paint, use a decal application lubricant to get the best possible results.
Lubricant makes applying your decals and smoothing out the bubbles easier.
Many classic cars feature a great deal of beautifully detailed metal work. It may seem that the metal details on your car's exterior need replacing. Before buying replacements, remove them and attempt to reshape them. Then give them a quick polishing.
This simple process may save money on unnecessary new parts.
Polishing the glass and plastic surfaces of your classic car gives it the extra appeal you are seeking. For the windshield, get a motorized buffer and some polish. Carefully clean every inch of your glass windows until they're clear as new.
Not only does this make your car safer to drive as you don't have to worry about sunlight catching the residue on your windshield and making it hard to see out, but it also makes your car more attractive to onlookers.
Similarly, polish the casings for your headlights and rear lights. This ensures proper lighting and removes unsightly build-up. Use a clean rag and cleaning compounds to rub down the cases.
Begin with a gentler compound to start and moving on to a more abrasive option if required.
Part Repair and Replacement
Cosmetic restoration gets car looking road ready, but you can't get moving until what's under the hood is working. This is where the cost of your project can go up quickly. Pay extra attention during your assessment phase.
Ensure you have the skills and funds needed to get the job done before taking on your car restoration project.
When ordering replacement parts to install in your classic car, always look for original parts. If you intend to resell your vehicle or want to maintain a strictly classic approach, this is especially important. Although modern parts help to increase the performance of your car, they lower its collector's value.
Inspect all the welds on your vehicle. Over time they deteriorate, and in a classic car, there is more time for erosion to occur. A small problem now in your welds turns into a big one down the line. If you see any gaps in the welds, address them and fix the problem immediately.
Taking the car out on the road before repair only creates an opportunity for the issue to worsen.
Start Your Classic Car Restoration Today
Restoring a car is one the most enjoyable adventures you can take on. If you're ready to start restoring, and have completed the necessary preparations to ensure you have picked out the right car with the right restoration goals to meet your schedule and skills, then get started!
Every day of work on your car is progress toward your end goal. When the day comes that you put the finishing touches on your vehicle, you'll be excited to show off your hard work. From bringing your classic car to a show near you to merely going out for a drive, you'll be glad you're behind the wheel of a beautifully restored and visually stunning car.